Baby Shower Decorations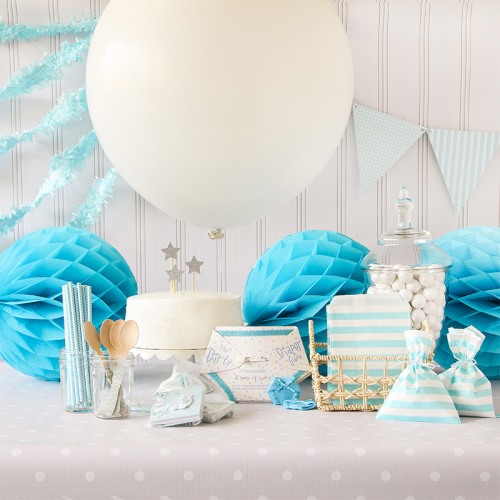 Blue Baby Shower Party Kit
After deciding on a theme, then you can start figuring out what decorations you want to go along with the theme. Baby shower decorations can be simple or over-the-top, it's your call.
You may have some limitations though, like your budget, time, and location/space restrictions. But within those parameters, you can probably still find great ways to decorate for the baby shower.
Below are some ideas for ways you can get a jumpstart on deciding on the decorations for the party. There are some quick and easy ways to set up for a party if you're short on time. If you have plenty of time, then you might consider to go the do-it-yourself route and make your decorations.
Pre-made Party Decorating Kit
Pre-made baby shower kits are perfect if you are short on time. They take the guess work out of what to buy and, depending on the kit that you get, it can make it really easy to give your party a complete look. Not all party kits are the same, so check the kit for what's included. Some pre-made decorating kits will only have some wall and tabletop decorations, while others may include wall and tabletop displays but also have utensils, plates, napkins and party favors - all with the same theme.
The more complete the party kit, then the more expensive it becomes, so if you are on a bit of a budget, but don't have a lot of time to make your own decorations, then shop around for different party kits that may be available and think about other things that you can add to the kit to make it more complete.
For example, if the kit includes just wall and tabletop decorations, then consider getting colored plates, utensils and napkins that match. A party kit doesn't have to be the only type of decorations that you purchase, you can also add more to them. Party kits can be used as a starting off point that you can build upon.
Party kits are great for some popular baby shower themes, like pink or blue, but if you are choosing a more complicated or not-so-common theme, then you might not be able to find a party kit that fits your needs. In which case, you may have to go to a specialty party shop and put together all the decorations you will need to pull off your theme.
Decorations from the Store
Decorations from a party or big box store will allow you to gather all that you need for your party. To avoid having to make multiple trips, you should take some time to envision the space you will be using for the party and make a list of all the decorations that you would like.
Consider where the mom-to-be will be sitting to open gifts (if that's on the agenda) because that might be a good spot to really go over-the-top for picture purposes. Think about the different activities and stations that you may have and what type of decorations you might want in each area.
If you're hosting an outdoor party, then you want to make sure that you have outdoor-friendly decorations that will work in all types of weather, and you may need to opt for bigger decorations since your space will be more open than an indoor shower.
Or if your party will be indoor and outdoor, then don't forget to get decorations for both areas so people know they are welcome inside and outside. Once you have an idea of spaces you'll want to decorate, then you can formulate a list of the different decorations that you'll need to pick up.
Just like pre-made party decorating kits, decorations at the store will likely have the more popular themes available, so it might be hard to find very specialized decorations if your theme is more on the original side.
Although you can get creative, for example, if you are planning a Twinkle, Twinkle Little Star themed baby shower, then you might look for retirement or anniversary party decorations which may have a lot of gold and silver elements that you can repurpose to fit into your theme. So a creative baby shower theme will certainly call for you to get creative when putting together your decorations.
While party and big-box stores offer a lot of decorations to choose from, don't forget about some discount stores with goodies that might work for your party. 99 cent stores and dollar stores usually have a gift wrapping/party section where you can snag some great deals, like tablecloths and napkins.
If you are making some of your own decorations and are looking for colored tissue paper and streamers, then check out some of the value stores, they usually have a ton of colored party items at a fraction of the cost compared to big-box stores.
They also usually have lots of typical party supplies, like table covers, utensils, cups and other essentials that are available in different colors. If you are getting spendy by making some of your own creative decorations, then you can slash your budget elsewhere by getting some party basics at the dollar store.
Do-it-Yourself Decorations
If you have the time and energy, then it might be fun to make your own decorations! There are lots of simple creations you can make even if you aren't that crafty. If you are throwing the party with others hosts, then you might enlist some help and make a crafternoon out of making some fun decorations.
If you don't have the time to makes tons of decorations, but you still want to add some unique elements to the party, then choose some very special parts of the party to focus on. You might enjoy making personalized signage for the eats and treats. Or maybe focus on area where the mom-to-be will be opening gifts.
DIY How to Make a Pine Cone Garland Tutorial